UK Status



Resident and suspected migrant. Uncommon

Montgomeryshire Status

Very rare. Just three examples of this species exist for Montgomeryshire, all coming from the Lake Vyrnwy area in the late 1980's.



Wingspan :

M & F, 21-25mm.



Confusion species



None.



Flight time (Montgomeryshire)



Habitat

Plantations of introduced conifers

Foodplant

Mainly Norway spruce but also found on sitka spruce, noble fir, silver fir and larch.

Lifestage data

Pupa overwinters in a cocoon amongst the pine needles on the ground. Larva late June-mid September, feeding on ripe seeds between the cone scales.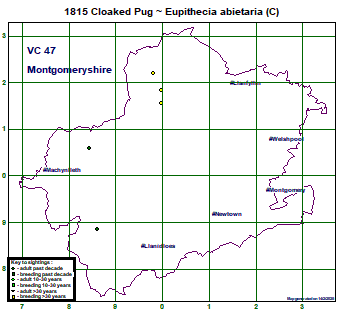 Click map for larger image