UK Status



Resident. Nat. Scarce B W,S,SE.

Montgomeryshire Status

An uncommon species with scattered records across the county.



Wingspan :

M & F, 31-34mm.



Confusion species



Sharp-angled Carpet and White-banded Carpet.



Flight time (Montgomeryshire)



Habitat

Damp woodland, wooded ravines and old hedgerows along sunken lanes.

Foodplant

Stitchworts.

Lifestage data

Overwinters as a pupa in a loose cocoon in the soil. Larva late July-mid September, feeding at night.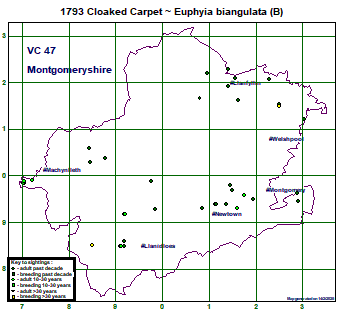 Click map for larger image