UK Status



Resident. Local S,C(N).

Montgomeryshire Status

A rare and local species, recorded only three times, the last being in the east of the county at Redwood Grove in 1998.



Wingspan :

M & F, 25-32mm.



Confusion species



Clay Triple-lines and False Mocha.



Flight time (Montgomeryshire)



Habitat

Oak woodland.

Foodplant

Oak.

Lifestage data

Overwinters as a pupa, attaching itself with silk to the underside of a leaf. Larva late June-July and mid August-September.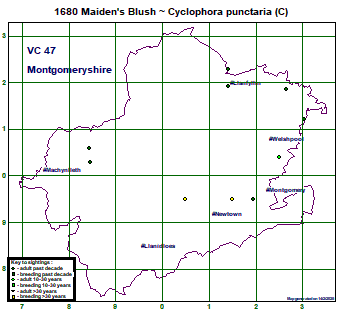 Click map for larger image