UK Status



Resident. Common S,C,NW.

Montgomeryshire Status

A scarce species. The 2011 record from Commins Coch (pictured below) was the first in the county since 1993.



Wingspan :

M & F, 23-26mm.



Confusion species



Small Grass Emerald.



Flight time (Montgomeryshire)



Habitat

Open woodland, hedgerows, heathland, moorland, scrub and grassland.

Foodplant

Downy birch, silver birch, hazel, hawthorn, blackthorn, hornbeam, bilberry, dogwood, broom, sweet chestnut and sallow.

Lifestage data

Overwinters as a small green larva in leaves. Larva late June-early Oct.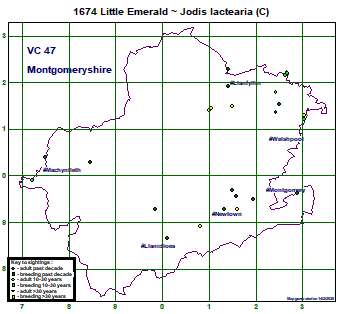 Click map for larger image