UK Status



Resident. Common.

Montgomeryshire Status

Locally common on the eastern side of the county. It has also been recorded in low numbers at scattered sites throughout the county.



Wingspan :

M & F, 33-40mm.



Confusion species



None.



Flight time (Montgomeryshire)



Habitat

Open woodland, hedgerows, heathland, moorland, scrub and gardens.

Foodplant

Broadleaved trees.

Lifestage data

Overwinters as an egg on the foodplant. Larva April-June. Pupates in a cocoon formed in the leaf litter.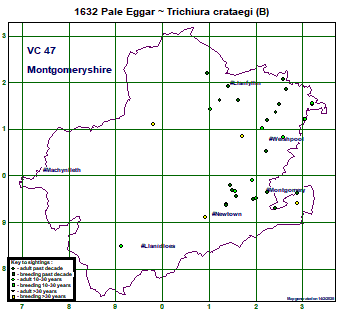 Click map for larger image