UK Status



Resident. RDB N,WC.

Montgomeryshire Status

A rare 'Red Data Book' species found only in the western half of the county. This species was thought to be only found nationally from a single area in north Wales and from a few sites in Scotland, but in recent years further colonies have been discovered in central southern England.

Wingspan : M & F, 27-38mm.



Confusion species



White-barred Clearwing.

Flight time (Montgomeryshire)



Habitat

Open birch woodland on hillsides of wet acidic pasture.

Foodplant

Downy birch.

Lifestage data

Overwinters as larva for > 1 year, but exact duration unknown. Feeds on the inner bark of old trees where it later pupates.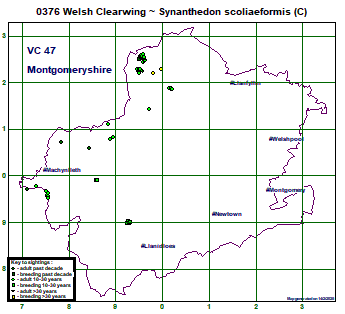 Click map for larger image