UK Status



Resident. Local S,SE.

Montgomeryshire Status

Found sparsely in the northern half of the county. Probably overlooked.



Wingspan :

M & F, 25-40mm.



Confusion species



Narrow-bordered Five-spot Burnet.



Flight time (Montgomeryshire)



Habitat

Dry calcareous grassland on chalk and limestone.

Foodplant

Common bird's-foot trefoil.

Lifestage data

Overwinters sometimes twice as a larva. Larva late June-early May. Pupates in a cocoon in an exposed position amongst the grass stems.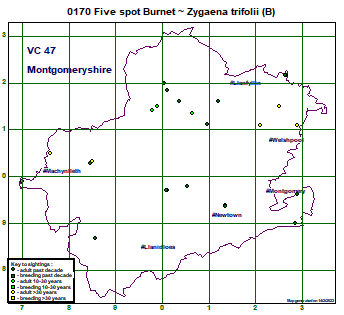 Click map for larger image